More Than an Engineer
Women of Knowles Corporation Speak Up on Experiences in Engineering

June 23, 2021
Happy International Women in Engineering Day!

Knowles is committed to providing growth opportunities to our female employees and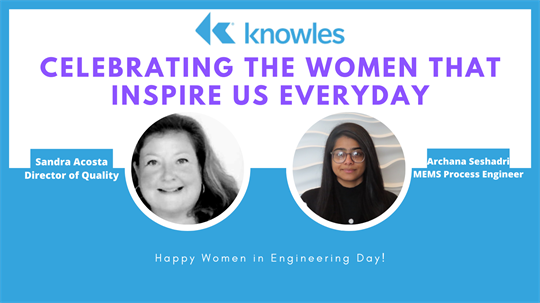 we're especially committed to creating a robust pipeline of women engineers. We like to look at our company as a melting pot where all are welcome, and everybody has something to learn from one another. The incredible, passionate, and strong women on our team bring unique perspective, resilience, and empathy that not only motivates, but inspires our workforce.

In honor of International Women in Engineering Day today, we sat down with some of our esteemed female engineering team to learn more from their perspective in the industry. Director of Quality, Sandra Acosta, spent many years in male-dominated tech fields, working hard to gain the respect of her male colleagues. After over 25 years of experience and most recently a decade at Honeywell, Sandra made the decision to come work at Knowles. She was specifically impressed by Knowles' focus on driving gender diversity and increasing women representation in senior technical and leadership positions. Sandra said that she couldn't imagine going to work for any company that didn't have a solid strategy about promoting female engineers. At Knowles, she said she got a seat at the table. Today she works with a Leadership team with more women than men on it, the Knowles Quality Leadership Team.

While many women weren't given much choice on their career path, Sandra said she always felt encouraged to make independent choices and to do what she likes. She also noted that her experiences in an all-women's high school have pushed her to go for her dreams. "There were a lot of women standing behind me saying I could do whatever I wanted." Sandra has worked hard to put herself in a position of power and knowledge to gain the respect of her coworkers and superiors and she says the females she works with in Knowles manufacturing feel a strong connection from teamwork engagement and communication. "My gender doesn't influence what I'm good at or what I like," Sandra added. MEMS Process Engineer Archana Seshadri is still getting her feet wet in her engineering career, but she has proven herself to be an asset to the team. Archana left home in India four years ago to obtain advanced degrees in science and engineering. Not long after earning her degree in Material Sciences, Archana accepted a full-time position with Knowles.

Archana's overarching career dream is to prove to her peers back in India that they can do anything if they work hard and apply themselves. Within one week of her tenure at Knowles, Archana was invited to one of Knowles' monthly Women in Engineering Resource Group meetings. The monthly meetings organized by this Employee Resource Group allow the women at Knowles to connect with one another over lunch to discuss gender disparities and how to address challenges for female in engineering as well as general trends in the engineering industry. Archana shared that these women have become some of her closest friends outside of work and they even helped her find an apartment when she was looking to move.

Archana's mother instilled a love of engineering and physics in her early on, continuing her own passions in science and technology. Stargazing and watching for comets with her mom, Archana grew curious about science and ended up earning a degree in Physics. In her master's program in the US, she was able to apply her knowledge to the engineering environment, gaining hands-on training and becoming an expert. Coming from a city in India, Archana recognizes the privilege that she may have over those in more rural communities of India where many bright women get married early, have children, and don't pursue careers. "Young minds have big dreams," Archana reminds, "but dreams are often lost in the rural areas of India."

While Archana is just starting out in her career, she recognizes that her voice isn't the loudest in the room. Many colleagues talk over one another while her communication style is more turn-based. As an Indian woman, Archana was taught to not be aggressive but rather subtle, and she is trying to overcome this to build more confident communication, stronger connections and to get her ideas across. However, she does not have any negativity towards her upbringing. "Every culture has its pros and cons, what you take from it is what is important."

Shining the spotlight on the hardworking women at Knowles has been and will be a priority of our organization. We find immense value in the perspective and creativity that the women in engineering roles bring to the entire Knowles team. There is the perception that all men are good with electronics. But as Archana said, "Women know tech just as well as men do," and we couldn't have said it better ourselves.
If you are a woman who is questioning going into the engineering field, take some advice from Sandra. "Do it! The world is going to be your oyster. You just have to open it up."

To learn more about our dynamic team of women in the engineering department, visit https://www.knowles.com/about-knowles/women-in-engineering.