The IA8508A is a fully customizable, quad-core audio processing unit with a DSP Software Development Kit that leverages Knowles Intelligent Audio's expertise in audio transducers, acoustics, digital signal processing, and algorithm development. The IA8508A has three powerful, uniquely-optimized Tensilica-based, audio-centric DSP cores combined with an ARM Cortex-M4 for maximum design flexibility.
The DSP cores provide low-latency, high-performance, and ultra-low-power algorithm processing, respectively, while the ARM Cortex-M4 functions as a general-purpose controller enabling the IA8508A to operate as a host. Open DSP capability provides a robust platform for 3rd-party solutions. The SDK with Knowles and Xtensa HiFi 3 instruction sets allows for extensive audio capabilities in voice and audio processing, voice user interfaces, ambient sound processing, digital ANC, voice processing and much more.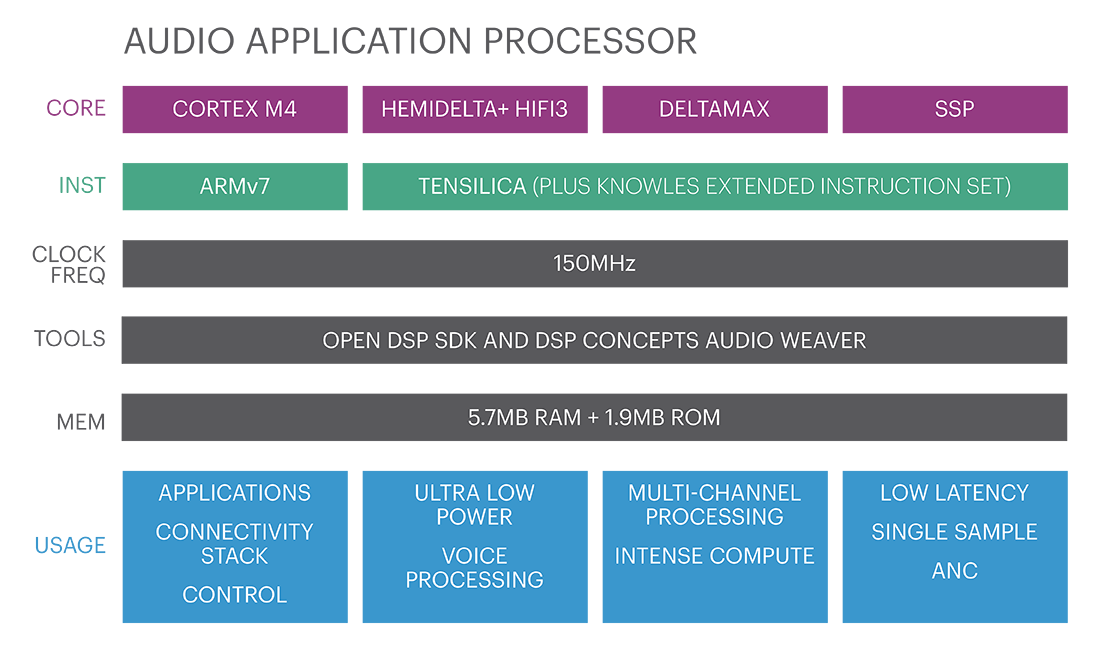 8 PDM microphone interfaces
Three heterogeneous Tensilica-based, audio-centric DSP cores and an ARM Cortex M4 for maximum design flexibility

All four cores can simultaneously run high performance floating-point algorithms leveraging the IA8508's 5.7MB of RAM. The multicore audio processor can be configured advantageously into an ultra-low power system targeting power-conscious designs.

Low-latency is guaranteed by a single sample processor (SSP) core for real-time processing for audio applications such as ANC (active noise cancellation) or asynchronous sample rate conversions of various audio sources.

Audio algorithms are optimized with instruction sets that feature high capacity 4-way SIMD floating point processing

Deep Neural Network (DNN) hardware acceleration is optimized with an instruction set that features high capacity 16-way SIMD for machine learning.

---