Welcome to Knowles' Virtual CES Site
---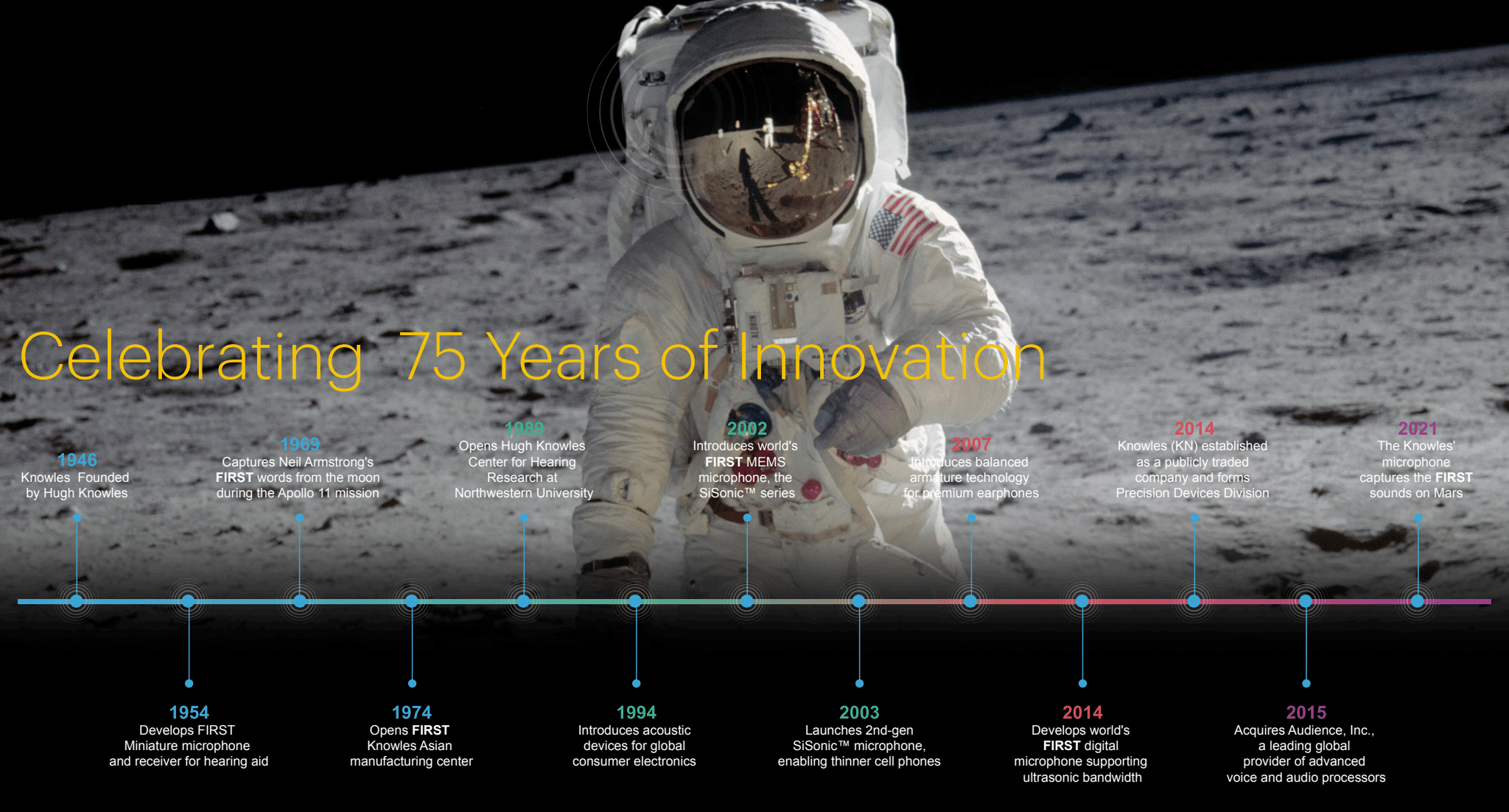 ---
Explore Our Demos Within Each Product Area:
True Wireless Stereo (TWS) Demos
Hybrid Earphones with Knowles BA Tweeter
KEY FEATURES:

• Qualcomm reported in its latest State of Sound Report that HD audio demand is skyrocketing, requiring speakers and TWS hardware be upgraded, particularly by extending the treble range
• Consumer earphones now on the market have a tiny balanced armature tweeter to deliver the crisp, fast treble required for HD audio, with plenty of headroom for hearing personalization. The dynamic woofer is designed specifically to drive pleasing bass and active noise canceling (ANC).
• Earphone demos with Knowles BA tweeter:
Bowers & Wilkins PI7

Soundcore by Anker Liberty 3 Pro

Edifier Neobuds Pro

Soundpeats H1

Knowles KN1 TWS reference design
• Knowles TWS development kit with specially designed, high performance 8mm woofer from Ole Wolff paired with new BA tweeter model RAN for premium sound, hearing personalization, and ANC in smaller, more comfortable form factor
AI-enabled TWS Development Kit with Advanced Features
KEY FEATURES:

• Knowles designed earbuds with Knowles SiSonic™ microphones and balanced armatures for best-in-class acoustic performance
• Best-in class ANC and Transparency mode with Sony ANC Codec and Knowles Earbuds
• AITransparency+ from Chatable running on Knowles AISonic™ Audio Edge Processor IA8201 for Conversation Enhancement (CES 2022 Innovation Awards Honoree)
• Superior voice call performance with 2 microphone beamforming and vibration sensor processing algorithms from Alango Technologies





TWS Voice Commands with Fluent.ai
KEY FEATURES:

• Flexible, small-footprint embedded voice control for a revolutionary TWS user experience; no need to tap your earbuds, fumble with your phone, or speak unnaturally in order to be understood
• Fluent.ai software is embedded locally in Knowles' IA8201 audio edge processor, enabling 24 voice triggered actions on TWS earbuds through 101 flexible voice commands
• Fluent.ai quickly and accurately triggers essential TWS actions through voice-activating noise cancellation, controlling music, accepting/declining calls, checking battery level and more - in any language, accent and even in noisy environments



Voice Vibration Sensor (V2S) processing
KEY FEATURES:

• Provides consumers freedom to use Ear/Wear products in noisy / outdoor / windy environments for voice calls, Voice UI engagement and other use cases
• Highest bandwidth sensor bone conduction sensor for high fidelity
• Built to be high performance, small size, low power and robust to fit a variety of applications and form factor
Alango OnlyVoice™ Sound Pickup Technology
KEY FEATURES:

• Advanced voice processing technology for TWS devices combining signals from external microphones, in-ear microphone, and bone conduction sensor to deliver noise-free voice capture.
• Optimized to run with Knowles IA8201 AISonic™ edge processor and Knowles SiSonic™ microphones while delivering industry-leading performance.

---
---
Internet of Things (IoT) Demos
Data-Over-Sound Technology for IoT Applications
KEY FEATURES:

• Trillbit's "Data-over-Sound" integrated with Knowles SiSonic™ MEMS microphones and smart microphones enables the future of voice-control in IoT and voice-ecommerce applications
• Multi-factor authentication supported by "Data-over-Sound" leads to more secure IoT devices
• Easy, frustration-free IoT device setup

Fault Detection Sensor
KEY FEATURES:

• Low-cost sensor for wider reach of predictive maintenance.
• Knowles Fault Detection Sensor (FDS) technology brings:
High Bandwidth (5KHz)

High SNR (63dB)

Low Current (300uA)
• Enables lower cost of ownership vs traditional accelerometers.
• Demonstrated with machine learning engine from Reality.ai.

Voice Control for Smart Appliances
KEY FEATURES:

• Lower power far-field voice algorithms and local commands for Whitegoods
• Implemented on Knowles AISonic™ Audio Edge Processor IA8201 and Knowles SiSonic™ microphone array
• Sensory Voice Hub keyword and commands

---
---
Advanced In-Cabin Voice UI
KEY FEATURES:

• Advanced automotive in-cabin voice UI using Knowles SiSonic™ MEMS microphone array and Kardome's source separation algorithm
• Advanced VUI enables accurate and intelligible voice commands even with multiple people speaking simultaneously
• Knowles Automotive-grade SiSonic™ MEMS microphones enable emerging in-cabin voice use cases

---
Knowles and Wevolver Announce the Winners of the Knowles AISonic
™
Hardware Grant
Five winners awarded Knowles development kits to implement their inventions – from sustainable wind power and wildfire monitoring to solving sleep apnea and fighting mosquito-born illnesses – the winners push the boundaries of voice and audio integration across a variety of industries.
We recently teamed up with Wevolver to launch a competition and hardware grant that would highlight the many varied use cases for our Knowles AISonic™ IA8201 Raspberry Pi Development Kit, an all-in-one package that brings voice, audio edge processing, and machine learning (ML) listening capabilities to devices and systems for a range of new applications. Our AISonic™ Hardware Grant asked the development community how they would use the AISonic™ kit to solve an engineering problem. Wevolver received a huge number of high-quality submissions from around the world. Ideas ranged from applications in personal robots to smart greenhouses. Together with judges, Anu Adeboje: Marketing Specialist at Sensory; Joan Palmiter Bajorek: CEO and founder, Women In Voice; YC Wang: Director of the Global Academic Program at Digi-Key Electronics; Richard Nass: Executive Vice-President, Brand Director, Embedded Franchise, OpenSystems Media; and our own Vikram Shrivastava: Sr. Director of IoT Marketing, Knowles Corporation, we chose five winners doing incredible things with our kit. Read more about the winners on the
Knowles Blog
.
---
Sign-up here to receive the Knowles newsletter
Discover the Knowles Story
---