Knowles AISonic
™️
Audio Edge Processors
We have the most extensible family of audio processors, adaptable across any form factor. The Knowles AISonic™ Audio Edge Processors are optimized for machine learning, allowing for high compute and low power operation for voice activation, hands-free control and contextual audio processing in a range of mobile devices, TWS headsets, portable speakers, TVs and other IoT devices.
Looking to voice-enable your applications with our Audio Edge Processors? Visit the myKnowles portal for resources, including solution kits, product briefs, discussion forums and more.
---
Knowles AISonic™ IA8201: Dual Core
The AISonic IA8201 is the industry's first mobile-centric audio edge processor specifically designed for advanced audio and machine learning applications, enabling power-efficient intelligence and privacy at the edge. It offers robust voice activation and multi-microphone audio processing with the compute power to perform advanced audio output, context awareness and gesture control for today's advanced consumer electronics, optimized for power-sensitive applications.

The IA8201 includes a high compute 128-bit core (DMX) with Knowles proprietary instruction set and a Tensilica HiFi3 core (HMD), both with Knowles audio enhancements. The DMX is a 4-way floating-point SIMD processor targeted towards efficient, high-performance computing (e.g. beam-forming, barge-in, AEC), while the HMD is targeted towards efficient, low-power, wake-on-voice applications with a two-way floating-point SIMD processor. Both cores contain dedicated accelerators for FFT, peak finding and DNNs.

A rich set of audio, and general purpose high speed interfaces enable flexible interfacing with digital microphones, other sensors, and a host for further processing. 1MB of user RAM enables storage of multiple algorithms and voice keywords.
Product Features
Multi-Core: HemiDelta for low power and DeltaMax optimized for audio compute and machine learning
4 mics, multiple high speed interfaces and GPIOs
Memory: 1MB user available RAM, with support for dynamic plugins
Audio Interfaces: 4x PDM in, Stereo PDM out, 3x I2S/TDM (4ch in/out)
Ports: 2x I2C, 2x SPI, 2 x UART, 24 GPIOs w/interrupts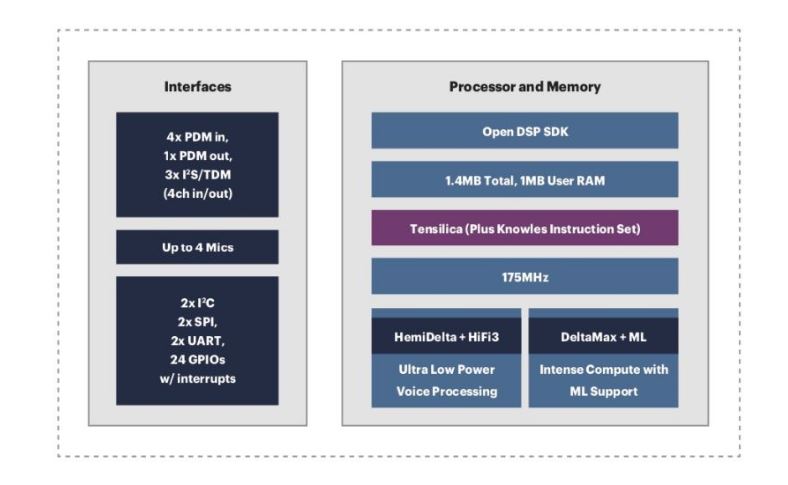 Knowles AISonic™ IA8508: Quad Core
The AISonic IA8508 is a highly flexible, quad-core audio edge processor with 4MB of user memory, which allows for larger models and concurrent processing of multiple, high-performance algorithms in applications requiring intensive edge processing and privacy. All of this is designed with low-power in mind for audio context aware and and voice assistant applications.

The IA8508 has four cores, the HMD, the DMX, a low latency SSP, and an Arm Cortex M4 for control. The SSP is a 256-bit single-cycle processor targeted toward low latency computing and hardware acceleration of asynchronous sample rate conversion (ASRC).

Open DSP, available on all of our edge processors, provides a robust platform for customer or third-party solutions. The SDK with Knowles and Xtensa HiFi 3 instruction sets allows for extensive voice and audio processing, capable voice user interfaces, sensor fusion with audio, ambient sound detection, and much more.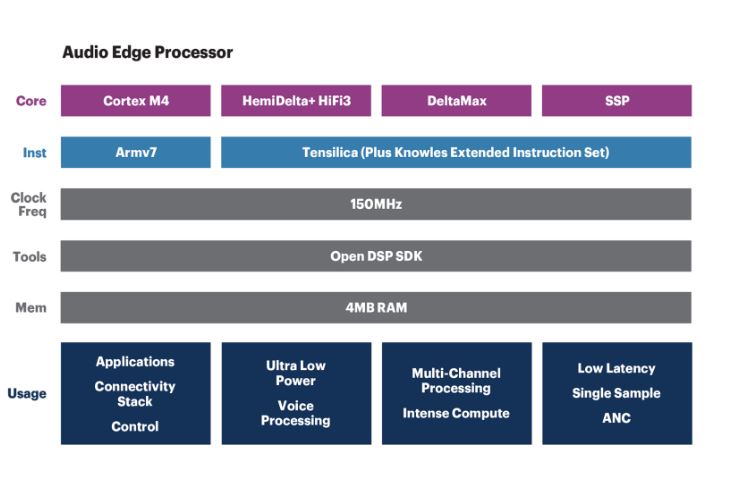 Product Features
8 PDM microphone interfaces
Three heterogeneous Tensilica-based, audio-centric DSP cores and an Arm Cortex M4 for maximum design flexibility
All four cores can simultaneously run high performance floating-point algorithms leveraging the IA8508's 5.7MB of RAM. The multicore audio processor can be configured into an ultra-low power system targeting power-conscious designs
Audio Interfaces: 4x PDM in, Stereo PDM out, 3x I2S/TDM (4ch in/out)
Low-latency utilizing a single sample processor (SSP) core for real-time processing for audio applications such as ANC (active noise cancellation) or asynchronous sample rate conversions of various audio sources