New product: Ultrasonic MEMS Microphone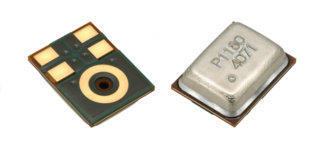 Knowles Corporation has developed the world's first digital microphone supporting ultrasonic bandwidth. This new product allows microphones to assist smartphones and consumer electronics with touch-less gesture recognition, phone-to-phone data transmission, pen input compatibility for handsets and tablets, and 3D positioning input.
The new MEMS microphone can receive ultrasonic sound waves above the audible range of humans, up to 80 kHz, and use those waves to triangulate an object's location and movement.
Beyond the ultrasonic mode, the microphone offers four performance modes, including a low power voice activation mode, which is ideal for mobile consumer electronics.
This advancement also has the potential to reduce the cost of manufacturing a device by eliminating the need for a micro infrared sensor, simplifying the device exterior, and integrating more capabilities into an existing component.
Features
Supports ultrasonic frequencies
Superwide-band capable
Lowest power consumption in the market (3x less than other digital microphones)
Best acoustic performance per square millimeter
Multiple performance modes (sleep, low-power, standard mode, ultrasonic mode)
Sensitivity matching for better algorithm performance
Easier system integration and better RF immunity compared to analog microphones
Technical Data
Ultrasonic frequencies: Up to 80kHz
Signal-to-Noise Ratio: Nominal 64.3 dB(A)
Flat Frequency Response: Up to 20 kHz
Power consumption: 235µA in low power mode
Size: More than 20% smaller than other digital microphones
Sensitivity matching: ±1 dB
Digital output: Serial PDM bit strea